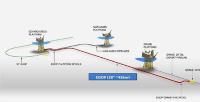 The Norwegian Petroleum Directorate has granted start-up consents for the Edvard Grieg oil pipeline and the Utsira High gas pipeline.
These transport solutions will become part of the development of the Edvard Grieg and Ivar Aasen fields on the Utsira High in the North Sea. Start-up of the Edvard Grieg field is planned towards the end of 2015, whereas the planned start-up of Ivar Aasen is scheduled for next year. Ivar Aasen will use both pipeline systems.
The oil transport system includes a 43-kilometre long 28-inch pipeline between the Edvard Grieg platform and a new Y-connection point, which has been installed on the Grane oil pipeline about 4 kilometres from Grane.
The gas transport system includes a 94-kilometre long 16-inch pipeline from the Edvard Grieg platform to an underwater connection point (T-connection) on the Beryl pipeline. This, in turn, is connected to the Scottish Area Gas Evacuation (SAGE) pipeline in the UK sector.