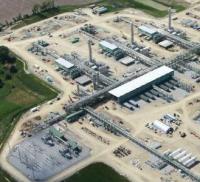 Williams and Williams Partners L.P. announced that the Federal Energy Regulatory Commission (FERC) has approved an application for Gulf Trace, a 1.2 million dekatherm per day expansion of the Transco pipeline system to serve the Cheniere Energy Partners, L.P. Sabine Pass Liquefaction project being developed in Cameron Parish, La. The Sabine Pass LNG export terminal will connect U.S. natural gas supplies with global LNG markets.
Transco, a wholly owned subsidiary of Williams Partners, has executed an agreement with Sabine Pass Liquefaction, LLC, for the entire capacity of the Gulf Trace project.
The Sabine Pass export terminal is currently under construction and first LNG is expected in late 2015. Once complete, the Sabine Pass liquefaction terminal will be the first large-scale LNG export facility in operation in the United States, with six LNG trains and expected nominal production capacity of 27 million tonnes per annum. Sabine Pass Liquefaction's project is supported by long-term contacts with several LNG off-take shippers and is expected to provide LNG for export to diverse markets overseas.