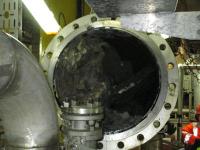 Pipetech International is celebrating the delivery of its first pipe cleaning project since its recent acquisition by Ramco Tubular Services.
The project was completed offshore Denmark for a major Danish operator. Using Pipetech's unique Aqua Milling system, the company was able to fully clean a 20-inch sea dump line blocked 80-90% by hard scale.
The Aqua Milling system is a highly effective mechanical method for removing scale and debris from pipes using nothing more than high-pressure/high speed water. The water was delivered through one of a range of specially developed nozzles deployed on the company's Aqua Drill International flexible hose system.