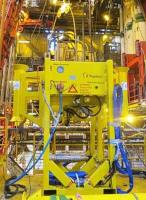 Aberdeen- and Stavanger-based specialist cleaning company, Pipetech, has launch a new, innovative cleaning system for subsea infrastructure.
Less than 6 months ago the organisation was tasked to develop a solution for one of the North Seas' major operators. The company's team of specialist engineers utilised Pipetech's, experience and expertise to produce what is now called the Deep Water Cleaning System (DWCS).
The technology uses no chemicals, only water, to clean any subsea system to its original state. Director of Operations for Pipetech in Norway, Arve Martinsen, says, "The is a new, high pressure system, which is the only system in the industry that can produce such high pressure – and only uses water, no chemicals. It carries away everything in its way – deposits of calcium, polycarbonates, copper, Sulphur, coal, asphalt – removing even rock hard concrete deposits. We are able to reduce downtime and return the pipeline to its original state, we are literally reclaiming metal."
The technology is not dependent on any auxiliary vessel to place the device on the seabed. The equipment is sunk through the moon pool of the rig and down to the subsea infrastructure, where it is place over the wellhead. An ROV connects the water supply and the unit is secured to the manifold with a pipe end connection tool. Then the cleaning operation begins.
The equipment has a rotating hose drum which is used to feed the hose and nozzles into the pipe gates. This configuration means that the line is kept taut, preventing pigtails and cavitation from arising. Avre adds, "A significant point is that the nozzles handle all kinds of bends with ease, and may be navigated in many directions, even through the sharpest of pipe bends."
In case of problems such as a stuck pig, where access typically is difficult, the operation is just as simple. Instead of intrusive and prolonged repairs, involving the cutting of pipes or hoisting devices to have pigs recovered, Pipetech just flushes them away. It is effective and easy.
Managing director of Pipetech, Lindsay Young, says, "This innovative and time saving technology is going to change the way we, the industry and our clients work. It is cleaner, faster and safer than anything being used at the moment. The team have produced a simple and effective solution for our clients' problem and we are delighted with the result. At Pipetech we regard the satisfaction of our clients as a top priority and we are unbeaten in our customer service and delivery."