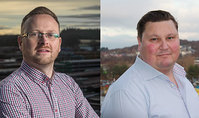 Independent pipe and process cleaning solutions specialist Pipetech has bolstered its team with senior appointments in Aberdeen and Stavanger.
Gavin Booth joins the company as sales manager for UK and Holland while Thomas Karlsen is welcomed as sales manager of Scandinavia. The duo bring more than 20 years of oil and gas experience to Pipetech.
Based at the company's Aberdeen premises, Booth will be responsible for driving key accounts for the business, working closely with the operations team in Aberdeen.
He has held several senior positions within the energy industry including hire division deputy manager at ACE Winches and key account manager at ATR Group.
Gavin Booth says, "I am delighted to join such an innovative and forward thinking company such as Pipetech. It's really exciting to be part of the business growth here in the UK and I look forward to widening our client base both in the UK and the Netherlands."
Joining Pipetech's Stavanger team Thomas Karlsen brings a wealth of oil and gas experience, most recently in the role of sales engineer at Quickflange for more than five years, working with key operators including Statoil, Conoco-Phillips and Aker Solutions.
He will be responsible for the company's growth in Norway, Denmark and Sweden and already boasts an extensive local network in the region as well as a breadth of sales experience.
Karlsen comments, "I am thrilled to be joining the Pipetech team in Stavanger and look forward to continuing to grow the company's footprint in Scandinavia. Despite recent low oil prices, the region has emerged strong and there is a positive attitude amongst industry professionals, so it is an exciting time to be joining the business."
Eric Doyle, managing director of Pipetech, says, "Gavin and Thomas are both key appointments for Pipetech as we continue to expand our operations across Europe. They both bring invaluable knowledge and experience of the oil and gas industry at a vital time for our business and we look forward to seeing the results we know they'll produce."
"We are positive about regional business streams and are working with contracts in place and strong business development opportunities. Pipetech has experienced steady success in the last 12 months, and these appointments are a direct response to the growth of our business," adds Doyle.
Pipetech launched in 2001 and has bases in Aberdeen, UK and Stavanger, Norway. The experienced and responsive team is focused on solving costly flow and blockage problems for oil and gas assets, industrial power, processing plants and refineries. All solutions are aimed at maximising process flow and reducing costs for customers.