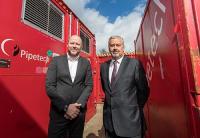 Pipetech, the independent pipe and process cleaning solutions specialist, has set out ambitious plans to expand its services to industrial markets and introduce subsea and wells to its offshore portfolio following recent contract wins and the appointment of a new leadership team.
Eric Doyle has been appointed managing director following management positions at several energy companies including most recently regional director at Aquaterra Energy. Alan Brunnen, former executive vice president at Aker Solutions has joined the company as non-executive director. Both bring a wealth of industry experience which they are applying as Pipetech enhances its technology and solutions targeting costly flow and blockage challenges at oil and gas assets and industrial power plants and refineries.
The Aberdeen headquartered company has developed a novel Deep Water Cleaning System which has been deployed in a GBP 1.2 million campaign by a major operator to successfully clear a blockage in a subsea manifold in a Norwegian North Sea campaign and plans to further expand its subsea capabilities in the coming months. The team is also developing a new wells downhole cleaning tool.
Pipetech has also recently won industrial services contracts including process cleaning at a gas terminal in Scotland as well as the company's first contract in Sweden for a major oil refinery. The organisation plans to continue its expansion into new international markets, particularly in Denmark, Sweden and Holland.
Eric Doyle, managing director of Pipetech says, "Pipetech has a new business strategy which will see us focus on solutions designed to tackle the inefficiencies faced both offshore and at industrial power plants and refineries by scale, flow and blockage problems. Alan's advice and influence is going to be invaluable as we invest in expanding our subsea and wells offerings and continue to invest in new technologies to solve the challenges being faced by industry."
Alan Brunnen retired from Aker Solutions last year after a career in oil and gas spanning more than three decades. He joined Aker Solutions in 2005 and was appointed executive vice president in 2011. He previously held various international managing director positions and was Chief Operating Officer at Stolt Offshore.
He says, "I see great potential for developing Pipetech's solutions for the subsea industry and the first deployment of the Deep Water Cleaning System instils confidence in the performance of this new cleaning technology for subsea pipelines and manifolds. Wax build-up is a particular challenge and there is the potential for operators to move from regular chemical cleaning to a more effective solution that can be planned into maintenance schedules. I look forward to working closely with the team to maximise the opportunities around the subsea market."
Pipetech launched in 2001 and has bases in Aberdeen, UK and Stavanger, Norway.