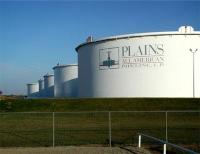 Plains All American Pipeline, L.P. (PAA) is conducting an open season for committed capacity on a proposed new crude oil pipeline from Cushing, Okla. to Longview, Texas. The process provides an opportunity for potential shippers to offer long-term volume commitments for service from Cushing to Longview in exchange for a discounted rate.
The proposed pipeline would originate at the Plains Cushing, Oklahoma Terminal and provide an initial capacity of approximately 120,000 barrels per day of light sweet crude to Longview, Texas.
By submitting a binding proposal, bidders are offering to enter into a long-term throughput and deficiency agreement for pipeline capacity.