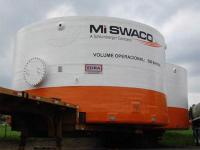 A planning application to develop a world class barite resource at Duntanlich, north of Aberfeldy, has been lodged with Perth & Kinross Council on 13th November by oilfield services company, M-I SWACO.
The proposed mine is a replacement for the company's mine at Foss, which has operated since 1985.
The Duntanlich orebody is unique in the UK. It is the only known significant barite deposit that is economic to work and will enable the UK to become self-sufficient in a mineral vitally important to the North Sea oil and gas industry, ensuring security of supply.
The planning application follows extensive community consultation, with events held in Ballinluig, Pitlochry and Aberfeldy and meetings with key stakeholders, to inform the proposals.