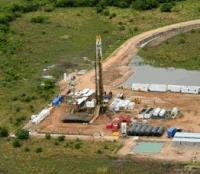 Platino Energy Corp. announces its 2015 full year production guidance and capital budget, as well as the appointment of Mr. Martin Eden to its Board of Directors.
2015 Guidance: 1,200 - 1,500 bopd
Platino's board of directors have approved a US$6 million capital budget for 2015, with a primary focus of delivering material production increases.
Key highlights of the Company's 2015 capital program are: •Estimated average 2015 annual production of 1,200 to 1,500 bopd, versus a 2014 exit rate of 908 bopd. •Low risk work-over program on several of the company's Llanos wells to commence this month targeting a combination of one or more of: accessing bypassed pay, isolating high water cut zones, installing upgraded artificial lift equipment. •Performing required operating facilities updates and expansions to allow for handling of the increased production volumes. •Licencing process requirements for the Company's Putumayo blocks.