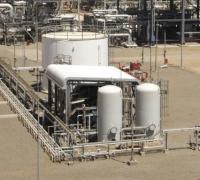 Prices of liquefied natural gas (LNG) for February 2014 delivery to Asia slipped 0.8% from January to average $18.808 per million British thermal units (/MMBtu), as lackluster buying interest from North Asia was largely offset by demand in Europe, the latest Platts Japan/Korea Marker (JKM) for month-ahead delivery showed. The monthly average Platts JKM for delivery in February 2014 was assessed from December 16 to January 15.
The average February 2014 JKM was up 8.2% from the February 2013 average of $17.348/MMBtu.
"February saw price fluctuations due to volatile demand, largely from European utilities," said Stephanie Wilson, managing editor of Asia LNG at Platts, a leading global energy, petrochemicals and metals information provider and a premier source of benchmark price references. The Platts JKM began the month at $18.925/MMBtu before dropping back to $18.60/MMBtu around the New Year holiday, as unsold January cargoes were rolled into February, adding to the availability.
"However, European buyers entered the market towards the end of December, absorbing the majority of the remaining Atlantic-origination cargoes due to a spike in LNG demand for on natural gas pipeline constraints in Turkey and the loss of alternative power generation in Spain," Wilson said.