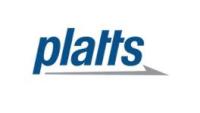 Platts has launched a new daily price assessment of thermal coal as delivered to India, augmenting its suite of India-focused price references.
The new daily assessment reflects the commercial and merchantable value of thermal coal with a calorific value of 5,500 kilocalorie per kilogram (kcal/kg) net-as-received (NAR) on delivered basis to the east and west coasts of India, 30 to 60 days forward.
"This new assessment expands our product suite for the Indian market which is the world's second largest import market," said James O'Connell, Platts editorial director of coal. "The 5,500 kcal/kg NAR grade has grown enormously popular in Asia over the last two years, and India is no exception to this."
The new CFR India 5,500 NAR assessment is published in Platts Coal Trader International, Platts European Power Alert, and is also available via Platts Market Data in the Coal International (CI) category. On Friday, the commodity was assessed by Platts at $76.50/mt CFR West India and $75.65/mt CFR East India.