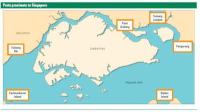 Platts has introduced the Free-On-Board Straits (FOB Straits) process in its price assessments for refined oil products.
The FOB Straits process is an update to price discovery methodology that forms the basis of the Platts FOB Singapore benchmarks for fuel oil, gasoil, jet fuel and gasoline. As part of its price assessment process, Platts publishes bids, offers and transactions, as determined by buyers and sellers in the open market, for loadpoints in Singapore and four ports in Johor, Malaysia.
This introduction of the FOB Straits process is the result of continued Platts consultations with the market and industry. A formal proposal was announced July 17, 2014, and the decision to change the methodology was announced on December 22, 2014. The evolution of the FOB Singapore assessments reflects the significant growth in the Singapore refined oil products markets over the last several years.
"Platts believes that benchmark price assessments must evolve with the marketplace, and for this reason, Platts regularly reviews with the marketplace and industry its offering of price assessments and the methodology and specifications underpinning those assessments," said Jonty Rushforth, Platts editorial director of Asia and Middle East oil markets.
The limited possibility of further expansion of Singapore's on-land oil storage, coupled with growth in nearby Johor and the Riau Islands, means trading of products – and the benchmarks that reflect that activity – have spilled beyond Singapore's traditional boundaries and into new frontiers. The associated spot markets now regularly include trades for commodities loading close to, but beyond the geographic borders of, Singapore. These ports include southern Malaysia oil terminals: Pasir Gudang, Tanjung Langsat and Pengerang Terminal to the north east of Singapore, and Tanjung Bin, to the west of the city-state.