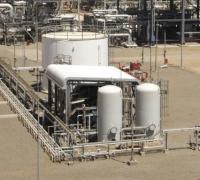 Prices of spot liquefied natural gas (LNG) for January delivery to Asia plunged 46.9% year over year to average $10.062 per million British thermal units (/MMBtu), according to latest Platts Japan/Korea Marker (Platts JKM™) data for month-ahead delivery. The figure reflects the daily Platts JKM assessed between November 17 and December 15, expressed as a monthly average.
The fall is the largest year-over-year reduction since Platts began assessing the JKM in February 2009.
"With buyers in northeast Asia still holding high inventories, demand for spot cargoes remained limited," said Stephanie Wilson, managing editor of Asia LNG at Platts, a leading global energy, petrochemicals and metals information provider and a premier source of benchmark price references. "Even in India and China, numerous buyers could not take additional volume, despite the lower prices."
At $10.062/MMBtu, the monthly average JKM for January delivery had reached levels not seen since the same period in 2011, when the January JKM averaged $9.639/MMBtu. In the years following the Fukushima disaster and the subsequent loss of nuclear power inJapan, January JKM monthly averages had been consistently above $15.00/MMBtu.
The marker dipped below $10/MMBtu for the first time since the week of the Fukushima disaster in March 2011. The JKM for January delivery bottomed at $9.90/MMBtu on assessment date December 1, before rebounding to end the month at $10.00/MMBtu.