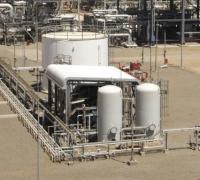 Prices of physical spot market liquefied natural gas (LNG) delivered to northeast Asia averaged $7.538 per million British thermal units (/MMBtu) for October, according to the latest Platts Japan/Korea Marker (Platts JKM) data for month-ahead delivery.
The figure reflects the daily JKM assessment published by Platts, a leading global energy, petrochemicals and metals information provider and a premier source of benchmark price references, between August 17 and September 15, expressed as a monthly average.
The marker, which fell 5.9% month over month, started the assessment period at $7.95/MMBtu, but weakened over the course of the month to be assessed at $7.00/MMBtu on September 15, as supply concerns from the previous month eased following multiple sell tenders from projects in the Asia Pacific region.
Although the market was moving into the traditional peak winter season, demand among northeast Asian buyers remained weak owing to high inventories in tank and moderate temperatures. Demand among portfolio sellers and traders -- who had previously provided some support to prices -- was also lackluster, as most short positions had now been covered. Arbitrage opportunities between the two basins had also narrowed on tighter spreads between the JKM and U.K. onshore National Balancing Point (NBP) gas