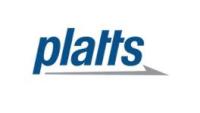 Platts has enhanced its suite of electric power map products with the release of the 2014 North American Electric Power System Map, which depicts in detail the U.S. and Canadian transmission and utility sectors.
In addition to geographical features, the map illustrates the industry's current infrastructure and latest projects. Existing and planned power plants of 100 megawatts (MW) or greater are labeled with the plant name and color-coded by primary fuel source. Operating and planned transmission lines of 161 kilovolts or greater are color-coded by voltage.
The map also is inclusive of a variety of inset graphics that visualize the geography of urban areas, Alaska and Northwest Canada and display industry-specific information such as the following: Utility service territories U.S. electricity consumption Major substations labeled by name Top power plants by operating capacity Top plant operators by operating capacity Platts Megawatt Daily pricing hubs labeled by name Plant operators' total operating and planned MW capacity Grid oversight regions of both North America and the U.S. (NERC, FERC) For more than 15 years, energy professionals have relied on the North American Electric Power System Map, derived from Platts' vast electric power infrastructure database, for a comprehensive view of the industry and its components.
The map measures 42" x 72" and is available in both print and digital formats, or as a combination of the two. The glossy version is suitable for framing and/or display, and the laminated version can be marked upon to facilitate analysis and planning. An enhanced CD-ROM encapsulates the wall map's content in a portable format. Click here for full product specifications and purchasing options.