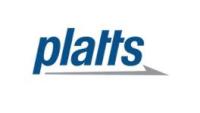 China's apparent oil demand in December 2013 fell 1.9% to an average 10.11 million barrels per day (b/d) or 42.76 million metric tons (mt) versus prior year data, according to a Platts analysis of China's latest government data.
December was the second consecutive month that China's apparent oil demand contracted and marked the third monthly decline this year, behind November's 2.1% decline and September's 2.3% drop.
The dip in apparent oil demand last month was evidenced by relatively lower refining activity and a significant drop in net oil product imports. As reported by the National Bureau of Statistics on January 20, crude oil processing by refineries was down 0.2% versus a year ago to 9.94 million b/d.
In 2013, China's apparent oil demand rose 2.5% versus the prior year to 9.83 million b/d. This was the same rate of expansion for the same period in 2012 versus 2011.