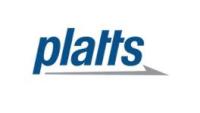 China's apparent oil demand rose 4.1% in June from a year earlier to 11.25 million barrels per day (b/d), according to a just-released Platts analysis of Chinese government data. This is in contrast with year-over-year increase of around 10% seen in the previous three months.
The latest analysis is based on a new methodology introduced from July in response to significant shifts in Chinese consumption and trade patterns in recent years.
Growth in demand for gasoline and LPG slowed in the month, while gasoil and jet fuel/kerosene demand saw a contraction.
'China's oil demand growth slowed to 4.1% in June,' said Platts Associate Editorial Director for Asia oil news, Mriganka Jaipuriyar. 'Gasoline and jet fuel, which have been seen as the key drivers of oil demand growth in China, witnessed a slowdown in the month.'
China's refinery throughput in June averaged 10.59 million b/d, rising 1.9% from a year earlier, data from the country's National Bureau of Statistics (NBS) showed July 15.
Meanwhile, China's net imports of oil products soared 58.4% year over year to 659,000 b/d in June, driven by strong inflows of fuel oil and naphtha, according to data released July 23 by the General Administration of Customs (GAC).