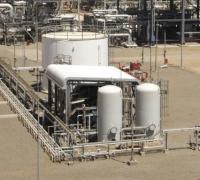 Prices of spot liquefied natural gas (LNG) for August delivery to Asia plummeted 26.5% year-over-year to an average $11.365 per million British thermal units (/MMBtu), the lowest monthly average since April 2011, the latest Platts Japan/Korea Marker (JKM) for month-ahead delivery showed. The drop came as supply continued to outweigh demand.
The data reflects the daily Platts JKM for August assessed between June 16 and July 15, and is expressed as a monthly average. The average Platts JKM for August fell year-over-year, and 12.2% month-over-month, despite the start of the traditional peak summer demand season in northeast Asia.
"High inventories resulting from a warmer than expected winter, coupled with lower end- user demand, have left most buyers in Asia amply covered by their term contracts, reducing the appetite for spot cargoes," said Stephanie Wilson, managing editor of Asia LNG at Platts, a leading global energy, petrochemicals and metals information provider and a premier source of benchmark price references.