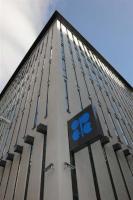 Oil production from the Organization of the Petroleum Exporting Countries (OPEC) soared by 140,000 barrels per day (b/d) to 32.52 million b/d in April as Iran and Iraq ramped up production by a hefty 150,000 b/d each, according to the latest survey of OPEC and oil industry officials and analysts by S&P Global Platts, the leading independent provider of information and benchmark prices for the commodities and energy markets.
"Iran and Iraq's hefty production increases fly in the face of the failed Doha production freeze talks," says Paul Hickin, associate editorial director, S&P Global Platts. "The question is how much higher can and will they go before production plateaus, because that would make a resurrection of a freeze plan at the June OPEC meeting more plausible."
This rise occurred after OPEC and non-OPEC producers failed to agree on a proposal to freeze output in Doha on April 17 in a bid to stabilise prices.
Iraq's output in April rose to 4.31 million b/d, with production recovering after falling from its January high.
This recovery was driven by a steady increase in its southern exports along with a jump in volumes from the semi-autonomous Kurdistan Region which were down the previous two months due to disruption to exports via the pipeline which transports crude from northern Iraq and Iraqi-Kurdistan to the Turkish Mediterranean port of Ceyhan.
Iraq recently said it is targeting its crude production to rise to 4.8 million b/d by the end of this year as it hopes to tackle a fiscal crisis as plans to further develop the oil and gas sector take shape.
Iran's output in April also rose by 150,000 b/d from the previous month to 3.38 million b/d, and is now up by 490,000 b/d since December which is close to the 500,000 b/d figure Iran had flagged as its immediate target when sanctions were lifted on January 16.
The country has made steady progress in regaining market share, boosted especially by resurgent Indian and South Korean demand.
National Iranian Oil Company head Rokneddin Javadi recently said that average crude oil and condensate exports in April doubled to over 2 million b/d from the level to which they sank in 2012 and that output had reached 3.7 million b/d.
The United Arab Emirates and Indonesia showed upticks in output thanks to the return of the UAE's Murban field in mid-April after completing maintenance and OPEC's newest member saw a slight rise after the ExxonMobil-operated Cepu block achieved peak production earlier this year.
Saudi Arabia saw a decline in output by 20,000 b/d to 10.18 million b/d due to field maintenance as OPEC's largest producer temporarily cut volumes of its major export grade, Arab Heavy.
Saudi Arabia has around 2 million b/d in spare capacity and analysts suggest that production could easily be increased slightly at other fields to make up the shortfall.
This was the first time this year that Saudi production has fallen and comes after the OPEC kingpin seemed to make an 11th hour move to pull the plug on the Doha freeze plan.
Whether there is a more cohesive Saudi policy going into the next OPEC meeting on June 2, will be a key question, especially now that Saudi Aramco Chairman Khalid al-Falih has been appointed as Saudi Arabia's oil minister, succeeding Ali al-Naimi, who was dismissed on Saturday. "Saudi Arabia will maintain its stable petroleum policies," Falih said in a statement soon after.
All eyes will be on whether both the Deputy Crown Prince Mohammed bin Salman and Falih are committed to staying on course on defending market share.