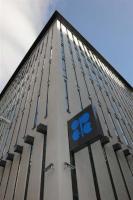 Oil production from the Organization of the Petroleum Exporting Countries (OPEC) fell by 90,000 barrels per day (b/d) to 32.34 million b/d in February despite higher volumes from sanctions-free Iran, according to the latest Platts survey of OPEC and oil industry officials and analysts.
The rise in Iranian output was offset by a sharp drop in production in OPEC's second largest producer, Iraq. Production also dipped in Nigeria, the United Arab Emirates (UAE) and Libya, but edged up in Angola and Kuwait.
"Iranian supply was relatively predictable when sanctions were in place," says Margaret McQuaile, senior correspondent for Platts, the leading independent provider of information and benchmark prices for the commodities and energy markets. "Now, one of the biggest questions for OPEC – and Saudi Arabia – is how many additional barrels will be flowing onto the market at a time of continuing oversupply."
Powerhouse producer Saudi Arabia maintained output at 10.2 million b/d, the survey showed. OPEC's top producer and non-OPEC Russia agreed at talks in Qatar last month to freeze production at January levels if other key producing countries, both within and outside OPEC, did the same. A possible meeting that would bring other producers together to formalise an output freeze has yet to be arranged.
Russian energy minister Alexander Novak has said that consultations were continuing among producers as to where and when the proposed meeting would be held. It remains unclear which producers may attend, and whether Iran, which has rejected any suggestion that it freeze production at a time when it is trying to recover from the burden of sanctions, will participate.
Iran, following the lifting of sanctions in mid-January and seeking to regain its former share of the global oil market, boosted output by 210,000 b/d to 3.12 million b/d. A number of Tehran's former customers – including France's Total, Spain's Cepsa and Russia's Lukoil – have already signed up for Iranian barrels.
Iraq accounted for the biggest single fall, with output down 200,000 b/d month on month at 4.13 million b/d in February. The dramatic drop was driven mainly by the closure of a key pipeline in the middle of the month after attacks on the Turkish section of the line, which transports crude from northern Iraq and semi-autonomous Iraqi Kurdistan to Turkish Mediterranean port Ceyhan.
The line restarted on Friday, two industry officials told Platts. They did not confirm pumping rates. The Kurdistan Regional Government's ministry of natural resources was not available for comment.
Oil from fields under the Kurdistan region's operations as well as oil produced in Kirkuk province by the federal North Oil Company had been flowing at an average 610,000 b/d prior to the outage, according to KRG data.