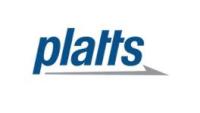 Oil production from the Organization of the Petroleum Exporting Countries (OPEC) totaled 31.08 million barrels per day (b/d) in October, down 120,000 b/d from September, and the lowest level since May, a Platts survey of OPEC and oil industry officials and analysts showed. The decline was led by production drops in Saudi Arabia and Iraq.
'OPEC output has now dropped over three consecutive months, but it would be a mistake to think that this might signal a move away from the group's market share strategy when ministers meet next month in Vienna,' said Margaret McQuaile, senior correspondent for Platts, a leading global provider of energy and commodities information. 'In fact, all the signs, including an expected contraction in non-OPEC supply next year, suggest that the likelihood of a policy change is pretty small.'
The survey estimated Saudi output at 10.1 million b/d in October, the third consecutive month in which volumes have dropped. But despite a fall of 350,000 b/d since July, Saudi output has remained consistently above 10 million b/d since March.