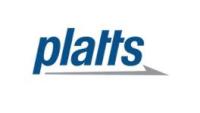 Platts will unveil its 2014 Top 250 Global Energy Company Rankings™ on October 28 during Singapore International Energy Week (SIEW), an annual exchange of ideas and discussions addressing pertinent energy issues. The Platts Top 250 Rankings, now in its 13th year, will be announced at the company's Asia Awards Dinner to be held this year at The Fullerton Hotel, Singapore.
The 2014 Platts Top 250 Global Energy Company Rankings reflect the financial performance of publicly held energy companies for fiscal year 2013, based on a combination of four factors: asset worth, revenues, profits and return on invested capital. The list also ranks companies by industry sector and region, and names the 50 fastest-growing companies.
Platts' 2014 Asia Awards Dinner will be emceed by Annalisa Burgos, anchor and reporter for Channel NewsAsia's morning show, "First Look Asia," the region's leading English-language news and lifestyle program. Ms. Burgos joined the pan-Asian television network in 2013, bringing 14 years of experience as an award-winning journalist in New York City, Washington, D.C. and Los Angeles, covering a wide range of business and lifestyle topics.