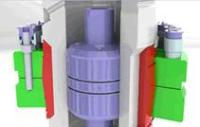 Plexus Holdings has extended a contract with Centrica North Sea Gas Ltd ('Centrica') for the supply and sale of an additional POS-GRIP wellhead system (5,000 psi) and services for the GROVE 49/10a-4 (G1) production well in the southern North Sea. The contract is worth up to £850,000 with revenues expected to commence in the first quarter of Plexus' 2014 financial year.
This contract win is a significant milestone for Plexus as it continues to expand its wellhead offering from exploration drilling into the larger and more lucrative production market, where the Company sees considerable future growth potential. In addition it also highlights Plexus' strong working relationship with Centrica, with which Plexus has worked with over the past seven years in the North Sea region.
Plexus' CEO Ben Van Bilderbeek said, "We are delighted to have secured this production wellhead supply contract which not only underpins the strength of our POS-GRIP technology for its safety, reliability and performance but also our strategic expansion from exploration wellhead supply diversifying into larger markets.