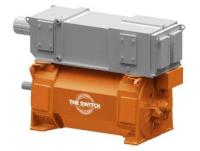 The Switch, a specialist of megawatt-class permanent magnet (PM) machines for advanced marine drive trains, has been selected to deliver its PM shaft generator for an LNG carrier with a 45,000 cubic meter cargo capacity, allowing the vessel to gain greater efficiency over its entire speed range. This order is part of a complete energy efficiency system being delivered by WE Tech Solutions (WE Tech) of Finland to Saga LNG Shipping Pte. Ltd. The vessel will be built by China Merchants Heavy Industry Co., Ltd.
Earlier this year, The Switch received a PM shaft generator order with an option of one more from the energy-efficient solution provider WE Tech for an LNG carrier owned by Saga LNG Shipping Pte. Ltd. Deliveries are scheduled to commence in October 2016.
"The optimised PM shaft generator system using WE Drive™ allows unprecedented levels of energy efficiency in the marine industry," says Mika Koli, Business Development Manager of The Switch. WE Drive™ is WE Tech's variable frequency drive for shaft generator applications.
Using the active front-end low harmonic drive technology of WE Drive™, The Switch's PM shaft generator can operate over the full main engine speed range while generating electricity for the vessel's electrical network with high efficiency. This feature is particularly advantageous in electrical part loads, which is the normal electrical load condition in any ship.
Along with The Switch PM shaft generator and WE Drive™, WE Tech will also deliver its efficient power distribution solution that provides the vessel's electrical network with up to 1200 kW of electrical power in Power Take Out (PTO) mode. The delivery also features the Power Take In (PTI) mode for Take Me Home, whereby the WE Drive™ is used as an auxiliary propulsion drive when the main engine is not in operation. Furthermore, the solution utilises the common DC-link in the WE Drive™ to enable energy-efficient DC power distribution for the bow thruster.
"Over the past few years, we've been developing our solution together with The Switch and other close suppliers," says Mårten Storbacka, Managing Director of WE Tech Solutions. The main advantage of permanent magnet technology is that it significantly increases energy efficiency. Depending on how you calculate it, fuel savings are approximately 20-30%. Since this technology lowers the need for installed power on a ship, energy generation and weight are reduced significantly, thereby lowering fuel consumption and the need for maintenance."