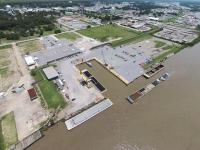 PMI Energy Services, a Superior Energy Services company, has opened a shorebase in Morgan City, Louisiana, focused on supporting shelf, coastal and inland waters production and drilling activities.
PMI's shorebase is centrally located on the Louisiana coast and provides better protection from weather events than ports located directly on the Louisiana coastline. It maintains a close proximity to established fuel docks, mud docks, 29-B waste transfer stations, rental and supply companies, fabrication yards, shipyards, repurpose facilities and other industry and civil infrastructure to support offshore or inland oil and gas properties.
The 12.5 acre site with a 600 foot bulkhead dock can easily accommodate the necessary services expected for a first class shorebase facility. It includes ample acreage for material handling and temporary storage, both open and enclosed, for dry goods and sensitive equipment; secure short-term and long-term parking; marine and aviation crew changes; meeting rooms; a safety training facility; customer office space; and satellite offices for logistics coordinators.