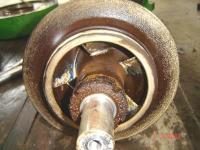 Fluid handling equipment may suffer from multiple problems including physical and mechanical damage as well as general or localized erosion and corrosion. These problems are linked to decreased efficiency and poor performance, leading to increasing operational costs. Minimising performance deterioration is therefore an important factor for pump manufacturers and end users. Indeed, hydraulic losses account for most of the efficiency decrease (9% for a mixed flow pump to 20% for radial flow). Coating technology can help in decreasing these losses, increasing the pump's performance and reducing operational costs.
Hydrophobic coatings for pump efficiency improvement
In pumping equipment, it is possible to reduce power consumption and improve the hydraulic properties by changing the pump surface finish. In fact, the loss of efficiency is caused by frictional forces created between the fluid and the walls, the acceleration and the slowing down of the fluid, and the change in the fluid flow direction. The smoother the pump walls, the more fluid turbulence will be reduced, thus reducing the energy required for the pump to move the fluid through the hydraulic passage.