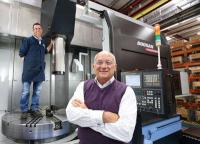 Fast-evolving engineering company Power Jacks has invested more than £1million in new equipment in order to meet growing global demand for its products and services including the oil and gas sector.
The company has taken delivery of three, state-of-the-art Doosan CNC (computer numerical control) machine tools to address customer needs for both its core products and precision machining services.
Power Jacks specialises in producing world-class industrial lifting and positioning equipment including screw jacks, actuators & lead screws.