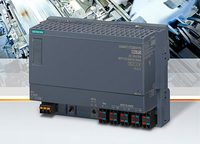 Siemens is bringing onto the market the Simatic ET 200SP PS, a single-phase power supply for the Simatic ET 200SP distributed I/O system. The 24-volt power supplies from the Sitop product family supply rated currents of 5 and 10 amperes, and their design, construction and functionality are optimally matched to the distributed controller. An on/off switch for the 24 volts, and plug-in terminals for three load circuits simplify the commissioning and maintenance of the system. The power supply has a current monitor that outputs the momentary output current and enables, for example, optimisation of the energy management. A mounting depth of a mere 75 mm allows the power supply to be used on flat distribution boards.
The output voltage is adjustable up to 28 V in order to compensate for voltage drops on long lines. The extremely flat design and low heat development of the power supplies allow space-saving mounting in distribution boards. They also have an extended ambient temperature range from -30° to +70° C and an efficiency of up to 90%, which keeps heat development down. On account of the automatic switchover of the input voltage (85-132/170-264 V AC) and comprehensive certifications, the power supplies can be used all over the world. Large power reserves of 1.5 times the rated current for "extra power" for 5 s/min ensure trouble-free switching of loads with a high inrush current and reliable operation.
The on/off switch for the 24 volts allows the floating exchange of the distributed I/O modules. Plug-in terminals allow three separate load circuits to be disconnected and so simplify commissioning and maintenance of the system. The current monitor outputs the present output current as a voltage value, and can be wired to an analogue input. In this case, 1 V corresponds to the rated current of the power supply, that is 5 A or 10 A. The measurement allows users not only to diagnose the load current at any time and detect faults through an increased current requirement, but also to optimise the energy management.