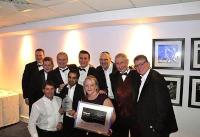 Precision Polymer Engineering (PPE) has just been crowned manufacturer of the year at the prestigious Lancashire Telegraph Business Awards 2013.
More than 300 people attended the glitzy ceremony staged at Ewood Park, Blackburn, on Friday 15th November to celebrate the successes of entrepreneurs and their companies over the past 12 months. The awards cover a geographic area which is recognised as the powerhouse of UK manufacturing and contains many of the UK's leading technical and specialist manufacturing companies adding further credibility to this award category. PPE was also highly commended in the Training and Development category in recognition of the training structure the company has in place for its employees.
Human resources director at PPE, Gary Rae, said; "winning was absolutely wonderful" after being presented with a trophy by Jawid Hussain, president of the award's sponsor, Accrol Papers.
For further information, visit http://www.prepol.com