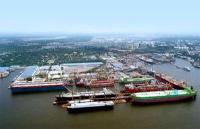 Sembcorp Marine refers to the announcements made by Marco Polo Marine Ltd on 24 November 2015 and 17 November 2015, and the announcement made by Sembcorp Marine on 18 November 2015.
PPL Shipyard Pte Ltd's (PPLS) position is that the contract is still subsisting and Marco Polo Drilling (I) Pte Ltd (MPD) is in repudiatory breach. PPLS did not accept MPD's repudiatory breach. PPLS has elected to affirm the contract and PPLS' lawyers have notified MPD's lawyers of this election on 23 November 2015.
The contractual delivery date is 30 November 2015. When MPD purported to terminate the contract on 17 November 2015, the Rig was substantially ready to be completed for delivery.