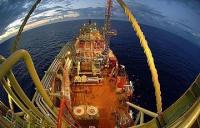 Petrobras announces that its total oil and natural gas production in Brazil in March was 2,331 thousand barrels of oil equivalent per day (boed), up by 0.2% from February's production of 2,327 thousand boed. Including the production operated by Petrobras for its partners in Brazil, the volume reached 2,483 thousand boed, indicating a 0.3% rise compared to a month earlier (2,476 thousand boed).
In March, Petrobras' oil production in Brazil averaged 1,926 thousand barrels per day (bpd), up by 0.1% from the February 2014 production of 1,923 thousand bpd. Including the share operated for partners, oil production in Brazil reached 2,026 thousand bpd, up 0.3% from February's volume (2,021 thousand bpd).
Monthly and daily pre-salt records
In March, monthly oil production from fields located in the pre-salt, in Santos and Campos Basins, averaged 395 thousand bpd, up by 2.4% from the previous record established in February (385 thousand bpd).
An important contribution for this record was the production from the first well connected to a buoyancy supported riser (BSR), in Sapinhoá field, which began in February. This well has been demonstrating above average performance and is the best production well in Brazil, with approximately 36 thousand bpd. The second well of this BSR was connected in the beginning of April and is producing 31 thousand bpd.