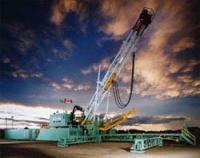 Precision Drilling Corporation announced that planned capital expenditures for 2014 are $504 million.
2014 Capital Plan and Update on 2013 Capital Plan
The 2014 capital expenditure plan includes $255 million for expansion capital, $192 million for sustaining and infrastructure expenditures, and $57 million to upgrade existing rigs. We expect that the $504 million will be split $468 million in the Contract Drilling segment and $36 million in the Completion and Production Services segment.
Precision's expansion capital plan includes five new build drilling rigs and the completion and deployment of six previously announced new build drilling rigs. The new rigs announced today include four new build drilling rigs in Canada; one Super Single for heavy oil development drilling, and three additional ST-1500 rigs for northern gas and gas liquids drilling.