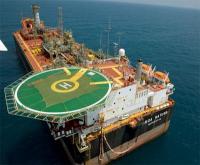 Premier announces that Simon Lockett, Chief Executive Officer, has notified the Board of his intention to step down.
Simon has agreed to remain Chief Executive Officer until a successor has been identified and appointed by the Board, to ensure a seamless transition. Simon has also agreed to assist the Board in their deliberations with respect to this appointment.
Under Simon's leadership the business has been transformed:
◾ Production has grown from an average of 37.4 mboepd in 2004 to 58.2 mboepd in 2013, a 56% increase; ◾ Proven and probable reserves have grown from 177 mmboe to 292 mmboe at the end of 2012, a 65% increase; ◾ Proven and probable reserves and resources have grown from 210 mmboe to 773 mmboe, a 268% increase; and ◾ Operating cash flows have risen from $119 million in 2005 to $808 million in 2012, a 580% increase.