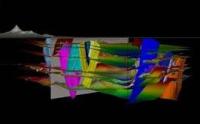 Paradigm says that Premier Oil plc is expanding its use of the integrated Paradigm® SeisEarth® interpretation suite running on Microsoft® Windows®. Premier Oil has, after a thorough review of all available options, selected the Paradigm seismic interpretation solution to be a part of its overall interpretation suite.
The decision to add Paradigm was based on its ability to work with large 2D/3D regional datasets and interconnectivity with third-party applications. The announcement was made at the Society of Exploration Geophysicists International Exposition and 83rd Annual Meeting in Houston, Texas.
"When testing the latest version of SeisEarth, we were particularly impressed by the system's ability to work efficiently with large 2D/3D regional datasets in a 3D environment," said Neil Oates, Chief Geophysicist at Premier Oil. "We believe that the range and ease of use of the tools available within the application's 3D Canvas make this solution a market leader for true 3D interpretation. Having the ever dependable VoxelGeo® volume interpretation system available on a Windows platform is a considerable bonus," he added.