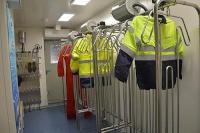 ELA Container Offshore GmbH has ordered several Drying Systems from Pronomar BV to increase stock. By doing this, ELA prepares itself for the cold season in which there is a high demand for Drying Containers. "We always have containers in stock to be able to react to customers' demands on short notice. Especially within the offshore industry where every second counts", says Hans Gatzemeier, Managing Director of ELA Container Offshore GmbH. "Since all of our Offshore Drying Containers are leased out, we ordered new drying systems to have some containers available on short notice", explains Gatzemeier.
The 20-foot ELA Offshore Drying Container is available for rent and sale. It is equipped with a Pronomar Drying System which is suitable to dry suits, boots and gloves for up to 20 people. All drying systems are made from solid stainless steel and are therefore built to last. The drying systems dry the clothes from the inside out by means of a large amount of warm air entering from a powerful blower. Within a maximum time of three hours, all clothing will be dry. "The drying systems prolong the lifetime of the costly work wear. Seen from a health perspective, the amount of sick leave decreases as workers are more likely to get sick when working in wet or damp overalls," says Jiska Bazuin, Operations Manager at Pronomar BV.
ELA Container has already gained diverse experience in the Offshore-Wind and Offshore Oil & Gas Industry. Whether on pontoons, transformer platforms, rigs or supply vessels - ELA Container is the ideal partner, offering tailor-made concepts for all requirements in the form of Living Quarters, Offices, Dining Rooms, Galleys, Laundries, Recreation or Locker Rooms and all types of Carrying Units. ELA Offshore containers are equipped with all the necessary utilities. This guarantees, in combination with all ELA Offshore features, a long service life, functionality and comfort.
The high quality Containers are "Made in Germany" according to German quality standards and possess all necessary certifications such as DNV 2.7-1/EN 12079-1, DNV 2.7-2, based on SOLAS, IMO FSS Code and MLC as well as CSC and are approved from several IACS-companies. In terms of fire resistance, an A60 insulation provides high safety standards. Every container will be checked before delivery. Depending on customer requirements, ELA Offshore Containers are individually customised, immediately operational and are available at short notice.