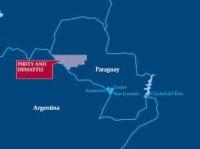 President has now achieved its full Participating Interest in the Pirity Concession pursuant to its farm-in, resulting in the Company now having a 59% beneficial Participating Interest.
All three wells in the 2014 drilling programme are targeting prospects located within the Pirity Concession.
Operational Progress
The drilling rig has now arrived at the Jacaranda well site, being the location for the first exploration well of the 2014 programme.