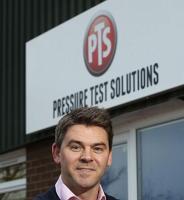 Pressure Test Solutions Ltd (PTS) has expanded its ATEX product range to include radios and communications systems as it looks to increase its market share of the North Sea offshore rental market.
PTS is an established business which rents, sells and calibrates specialist equipment to the offshore industry. The company has had its radio licence approved by Ofcom, the government-approved regulatory body for the UK communications industry, which has allowed it to offer the new communications technology for rent.
Sets of two-way ATEX Motorola DP4401 UHF radios, which are suitable for use offshore, are now available to rent for teams who require communications systems while they are working on platforms and support vessels.
The radios are the latest edition to the company's extensive range of ATEX compliant equipment for hazardous areas which include lighting, power, heating, ventilation and gas monitoring products.
Established in 2008, PTS has steadily grown to become a leading player in the North Sea and international markets by continually investing in equipment, support services and its people to provide customers with the latest and best innovative products with a reputation of providing a first class level of service.
Gary Notman, managing director of PTS, was keen to add radio and communications equipment to the company's product range in order to offer greater value to customers.
He says, "We're very pleased to add radio and communications equipment to our growing range of ATEX equipment which is available for rental use offshore. Reliable communications equipment is essential on platforms and support vessels and we have invested in the best products currently on the market. Our technicians have also been trained on their operation and maintenance so the kit will always be in full working order. We have established a strong network of loyal customers over the years and by offering communications and radio sets for rent we are improving our service which we hope will also attract other companies to have a look at what we can do."
The company concentrates in four key niche specialist areas: Pressure test equipment and instrumentation rental; hazardous area equipment rental; flushing units and hose reelers, and supply of Hammer Unions.
Based at Denmore Industrial Estate in Bridge of Don, the company is prominent in the North Sea market and is also targeting overseas markets as part of its business strategy.