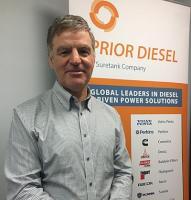 Prior Diesel, a Suretank company and global supplier of diesel driven power solutions and well service products, has appointed Jim Yeats as General Manager to drive forward the company's ongoing expansion.
Yeats brings over 25 years experience in the oil and gas sector with previous senior level appointments at Axon Energy Products, Airpac Bukom, Halliburton and PSL Energy Services in a range of operational and managerial roles.
Yeats, commenting on his new appointment, says, "Prior Diesel's multi-disciplinary engineering team has an outstanding reputation for delivering high quality, bespoke products. I want to build on that reputation and ensure that we optimise our visibility in key growth segments and territories. We have an exciting time ahead of us as we look to enhance our business processes and exploit opportunities in new geographical markets. I look forward to applying my experience to drive the business forward working with my colleagues at Prior Diesel in pursuit of that goal."
As General Manager of Prior Diesel Yeats will have full responsibility for the business and will report directly to John Fitzgerald, CEO, Suretank Group.
John Fitzgerald, CEO, Suretank Group, adds, "We welcome Jim into the Suretank Group. His appointment heralds a new era for Prior Diesel as it aims to strengthen and augment its existing operational capabilities to exploit new clients and geographical markets. We believe he is the right person to enable Prior Diesel to realise continued success in key industrial growth segments across the UK and Europe. His appointment is further demonstration of our ongoing commitment to the business and our loyal and committed client base. Customers can be assured that we are here, we are strong and we remain open for business, despite the challenging market conditions that we are all working to."