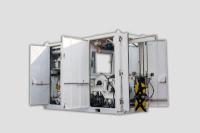 Prior Diesel, a Suretank company, has launched a new phase of wireline units for the oil and gas industry. The product range boosts it portfolio of diesel driven power solutions and well service products to the oil and gas, marine and industrial sectors.
The advanced cabling technology is used to lower equipment into oil and gas wells and transmit data relating to the conditions of the wellbore. Prior Diesel's innovative longitudinally mounted drive engine design allows for ease of operation and maintenance. The unit is acoustically enclosed ensuring low cabin noise for the operator.
Gordon MacLean, joint managing director at Prior Diesel, explained: "We work in close collaboration with our customers and are continuously assessing and investing in new and technically advanced equipment. There is a huge market for this type of equipment and we've been able to use our engineering expertise and experience to develop what we believe is an exceptional piece of kit."