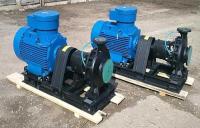 MZT Pumpi Macedonia, one of the leading manufacturers of industrial pumps for transport of different types of liquid in South/East Europe, has successfully produced and delivered fully equipped End Suction Centrifugal pumps for Petro Company in Kazakhstan.
The order consists of two complete sets of End Suction centrifugal pump type according to API Standards type OH1 - SCP 80-315 and spare parts with characteristics: Q = 100 [m³/h]; TDH= 90 [m]; equipped with explosion-proof motor with power of 55 kW and speed of 2900 rpm.
The pumps will be used by Petro Company for the transport of produced water in Kazakhstan.