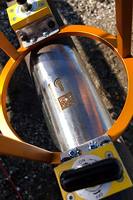 Wellsite Fishing and Rental Services, LLC, provider of drilling and completion rental equipment, is now utilising the IQ Scan technology suite for streamlining asset management.
IQ Scan Technology, LLC's innovative solution for durable asset tracking combines a 2D laser-engraved coding system with a secure cloud-based software suite to deliver a comprehensive asset management solution. The powerful package provides enterprises with crucial data to make key decisions and gain critical insights into the usage and life of their durable assets from cradle-to-grave.
The IQ Scan technology suite features IQ Scan Field, which utilises ubiquitous mobile technology for scanning, tracking and reporting of durable assets; IQ Scan Desk, which provides the reporting features for tracking an asset; and IQ Scan Web, a web-based solution for tracking and reporting on assets in the field.
Kirby Arceneaux, chairman and CEO, Wellsite, says, "As well as providing the ability to monitor wear on tubulars after each use, with new data loaded after each inspection, the IQ Scan solution enables users to know the entire history of the asset and its use in the field. The innovative 2D laser technology means that assets are etched with a durable Universally Traceable Asset Code (UTAC) that can withstand the rigors of the field, and information can be quickly and accurately obtained about the asset."
Glen Clark, CEO of IQ Scan, says, "We are excited to deploy IQ Scan's technology with Wellsite. Companies like Wellsite, who manage large numbers of durable assets, are well positioned to benefit from our technology-driven solution. The IQ Scan technology suite improves both the speed and accuracy for tracking these assets in the field."