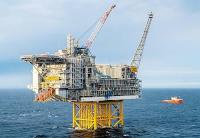 With the production start of the Ivar Aasen field, Wintershall is once again strengthening its position as one of the major producers on the Norwegian Continental Shelf. The development operated by AkerBP with estimated reserves of 186 million barrels of oil equivalent (boe) commenced operation on December 24, 2016. The daily production capacity is 68,000 boe.
Wintershall discovered the Asha Field in 2012 which was later included as an integral part in the larger Ivar Aasen development. Germany's largest international oil and natural gas producer has a 6.5% share in this development. Ivar Aasen is located in the Utsira High area in the Norwegian part of the North Sea. The selected development solution provides a pipeline link connecting the field with the Edvard Grieg production platform for final processing and export of the extracted volumes. Edvard Grieg will also provide lift gas and power for the Ivar Aasen production. Following the Knarr and Edvard Grieg projects, Ivar Aasen is now the third field within two years that Wintershall as a partner successfully transfers into production.
"We are constantly gaining more and more experience in the development of projects on the Norwegian Continental Shelf. Working closely with AkerBP has been very constructive and efficient. We would like to congratulate the entire team, which has succeeded in transferring the field into production on time and to budget. Wintershall can take this experience and apply it to our own-operated Maria and Skarfjell projects," explains Bernd Schrimpf, Managing Director, Wintershall Norge.
The BASF subsidiary has increased its daily production volume in Norway to more than 80,000 boe. Wintershall is one of the largest license holders in Norway with around 60 licenses, of which more than half of them as operator. For Wintershall, Norway is a core region for its global activities. Within a decade, the company has successfully established itself as an integrated exploration and production company in the Scandinavian country.