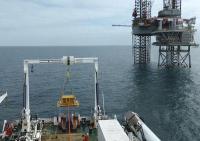 Global Marine Systems Limited says their in-house project engineering department complements the business' comprehensive skill set offering a broad range of services supporting a rapidly expanding customer base.
A case in point is the recent successful T&I (transportation and installation) of a Cable End Module (CEM) in the North Sea, which was not without its challenges. Here, Global Marine's project engineering department was tasked with demands that included pre-planning, interfacing with project stakeholders, design engineering and precision installation.
When the contract from Tampnet, an expert in offshore high capacity communication networks, was awarded to Global Marine in October 2014, the initial concept design for the CEM was very different to what was finally deployed. Indeed, the early involvement of the company's project engineering team in the design phase was a key part of this successful platform-to-platform fibre optic communications project.