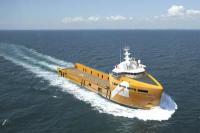 PROMAR has ordered two Platform Supply Vessels from Damen Shipyards Group and this ambitious Swiss company is looking to further expand the offshore fleet under its management in the next five years. The first Damen PSV 3300 will be delivered in February 2015 and the second, in August of the same year.
Commenting on why the company chose a Damen vessel, Olivier Meynis de Paulin, Chartering Supervisor says: "The PSV 3300 is at the forefront of technology in terms of equipment, being modern and reliable. These ships are built in line with North Sea standards."
PROMAR expects to employ the two vessels in the West African market. "West Africa is well-known to us. We have been chartering in this region since 2002 when we were established.