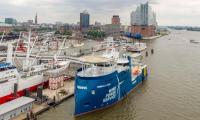 Pronomar has announced the provision of drying systems to Bernard Schulte Ship Management for their two new Service Operations Vessels (SOVs) working in the 600 megawatt Gemini wind farm in the Dutch part of the North Sea.
Bernhard Schulte Ship Management GmbH & Co, based in Hamburg, is a multinational ship management services company. According to Bernhard Schulte, the SOV's will function as "a reliable and environmentally sound platform for wind farm operations and maintenance support, technician accommodation and transport, and the provision of exceptional levels of safe and reliable access to installations offshore."
Two of the main focuses of the company are safety and reliability, which make the products of Pronomar a perfect fit. The high-quality drying systems provide fast and gentle drying of clothing and boots and help create a better, healthier and more comfortable work environment for the technicians on-board, making them indispensable for this project. The vessels have accommodation for 60 persons in single cabins, of which 40 cabins are dedicated to technicians.