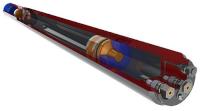 Global energy services company Proserv has launched a new subsea sampling cylinder that can improve the quality of results and reduce risks normally associated with sample transfer.
Based on existing technology, the Proserv Subsea Sampling Cylinder (SSC) is the world's first fully qualified and certified 'for shipping' sample cylinder to be deployed in a subsea environment. The system accurately captures well properties throughout the lifetime of a field.
Subsea cylinders allow operators to take representative production samples from a subsea system for direct transfer to a laboratory. Proserv's SSC eliminates the risks associated with handling and transferring samples on the surface, reducing the risk of containment loss and exposure to H2s / CO2 which can present a danger to people and the environment.
Andrew Anderson, Senior Vice President for Production Equipment Services (PES) at Proserv, says, "With operators facing increased challenges in maximising production from geologically complex, high pressure and temperature and often remote and inhospitable fields, being able to generate accurate and reliable information from wells is critical in establishing its status and prospects."
"Proserv has an established track record spanning over 40 years in the sampling services and subsea sectors and we consistently deliver robust technology systems and services for customers on time and to the highest standards and technical specifications. Our teams have developed a system to eliminate many of the issues that traditionally affect subsea samples. With the increasing demand for flow assurance and reservoir analysis, Proserv fully intends to set the pace as the leading global player in the subsea sampling field," adds Anderson.
The Proserv SSC is suitable for severe service applications and has a large two-litre sample volume. Cylinders are available for sale or rental for use with existing systems. They can also be integrated with the firm's bespoke subsea sampling systems (SSS) which have been manufactured and delivered to clients around the world.
Proserv is a technology-driven company providing products, services and bespoke solutions to clients across the drilling, production and decommissioning market sectors. Operating worldwide through 22 operating centres based in 12 countries, the company has won a string of industry awards over the years in recognition of its achievements.