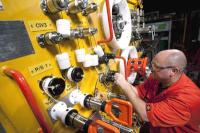 Proserv has secured two major contract wins in the Gulf of Mexico worth a combined US$17million (approx. £10.5m), underpinning the company's fast-growing status, international footprint and strong interregional capability.
The deals with Noble Energy and Talos Energy will see Proserv carry out work at the operators' respective Gunflint and Phoenix Field Expansion developments.
Two deepwater wells will be controlled at Noble Energy's Gunflint field in the Mississippi Canyon area – around 70 miles from the Louisiana coast. Developed by Proserv's flagship R&D technology hub in Trondheim, Norway, fibre optic communication systems using the company's Open Communications Hub (OCH) technology will allow high-speed network communication from 6100ft (1859m) below the surface. Proserv's team of subsea controls experts in Great Yarmouth, UK, will be responsible for the manufacturing of the 7 subsea control modules for both developments, which will include the latest Artemis 2G electronics. Final testing, servicing and the integration of equipment will be carried out at Proserv's dedicated controls facility in Houston.