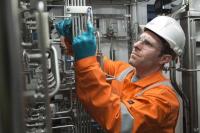 Global energy services company Proserv has been awarded a multi-million pound contract with Statoil for the provision of production control equipment in Norway.
Proserv will supply five wellhead hydraulic power units (HPUs) for Statoil's Gullfaks oil and gas field in the Norwegian sector of the North Sea which is undergoing an extensive topside upgrade programme.
The design, manufacture and supply of the workscope will be carried out by Proserv's specialist engineering and project teams in Stavanger, Norway. Work has already begun on the manufacturing of these systems and all five are expected to be delivered to Statoil by 2017.
Henrik Johnson, Proserv's regional president for Scandinavia, says, "This is a significant win for the company that highlights the strength of our technical and engineering expertise as well as our market-leading status for the provision of surface production systems and services.
"We are also extremely pleased that Statoil have so clearly shown their trust in us to deliver robust technology and services on time and to the highest standards, and we look forward to working with them in the successful delivery of this project."
The agreement comes just months after Proserv was awarded a contract to provide topside control equipment at one of the largest field discoveries on the Norwegian Continental Shelf. Proserv is supplying Aibel, on behalf of Statoil, with a HPU and three chemical injection panels for the prestigious Johan Sverdrup development's drilling platform.
Proserv is a global-leading market specialist in life-of-field services for the energy industry with its proven technologies and engineering expertise underpinning the company's success.
The company, which operates worldwide through 25 operating centres based in 11 countries, has a 40-year track record in delivering world-class solutions particularly in the subsea, production and drilling market sectors.