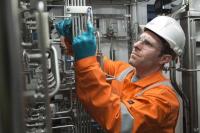 Energy services company Proserv has been awarded a multi-million dollar contract from Apache Corporation for work on the UK Continental Shelf.
Proserv will supply a subsea control system and associated topside and subsea interface equipment for use on the new Callater wells located south of the Beryl Alpha platform.
The design, manufacture and supply of the workscope will be carried out by Proserv's team of subsea experts in Great Yarmouth, UK.
David Lamont, CEO of Proserv, says, "This is a significant win for the company that highlights the strength of our technical and engineering expertise as well as our market-leading status in the subsea controls and communications field. It also reinforces that there are still major opportunities in a low oil price marketplace to provide truly smarter solutions that challenge convention and reduce operating costs, extend field-life and maximise ultimate recovery. This is where Proserv uniquely delivers."
Formerly known as Prospect K, the Apache Callater wells are situated 335 kilometres northeast of Aberdeen. Proserv will deliver four subsea control modules with standard interfaces to provide compatible support for earlier generations of subsea controls equipment and enable future link-ups with other existing field assets in the surrounding area. This will provide Apache with a truly flexible solution to seamlessly extend field life in the future without affecting the existing subsea control systems.