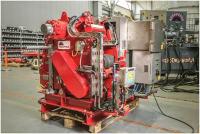 Protea has further expanded its product range with the delivery of its first winch certified for man-riding operations for installation on the Maersk Gallant Jack-up rig.
"Given its man-riding application, the certification requirements for this winch were extensive – it is fully compliant withDNV-OS-E101, NORSOK standards R-002 and R-003 and is also CE marked and approved for operations in ATEX Zone 1." explained Lukasz Tracz, Project Manager.
The winch has a SWL of 150kg and can operate at speed up to 60m/min.Ordered via Protea's strategic partner Westcon, the winch was recently delivered to Haugesund in Norwayfor installation on the Jack-up rig.